ABOUT US...

From humble beginnings to large-scale paint supply... For over 30 years we've worked tirelessly and listened carefully. We wholesale quality New Zealand made products from paints, toys, gifts, arts and crafts and so much more, all with the focus of creating minimal environmental impact.
History ...

Established in 1988 as Five Star Paints Ltd as a family owned and operated business.

A proud Canterbury manufacturer of water-based art paints, dyes, inks, glues, etc for over 30 years.

Acquired School Art business in 2006 - an established range of economical poster and face paints.

Purchased Wylies wholesale in December 2017 - large range of retail toys, novelty, souvenirs and games.

Changed our name from Five Star Paints Ltd to reflect our extensive range of products.

We have been part of the Enviro-Mark certification, an environmental management system, since 2006, achieving and maintaining a gold standard. To check our Environmental Policy click here

We are members of the Buy New Zealand Made campaign.
WHAT WE DO...

New Zealand manufacturer - we make our own water based art paints, dyes, inks, and glues in our Christchurch factory with brands widely recognised in the educational and retail sector.

We research, develop, formulate and test all our manufactured products.

Importer and wholesaler of art-related products, souvenirs, toys, novelty, crafts and Christmas products.

Our company philosophy is being "responsive, innovative, solution finders", providing the right solutions for our customers.

We welcome your feedback to ensure we provide the best service possible.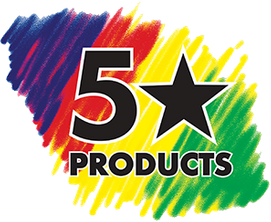 "RESPONSIVE, INNOVATIVE, SOLUTION FINDERS"